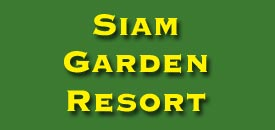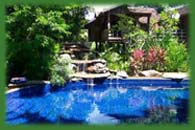 There is plenty of accommodation in Chiang Mai, hotels in Chiang Mai, guesthouses in Chiangmai, several bed and breakfast places in Chiangmai, but not many resorts in the Northern capital of Thailand. Siam Garden Resort, Chaing Mai is one of them.
You have just arrived in Northern Thailand. You are about to enter our little paradise we call Siam Garden Resort. Please read on and see if the accommodation and other things we have to offer here are what you would like but we think it would be ideal for couples, double couples, honeymooners, second honeymooners and families to four members.
If you are disabled, particularly if you have a wheelchair, then email us. "Bamboo" can probably accommodate you. There is excellent access to a large downstairs suite with enormous bathroom and is very nice.
Both Erica and Chris have a lot of experience with disabled people and can advise you as it relates to your own particular needs.
Thailand is a wonderful country. Its climate, scenery, and especially its people and their culture offer you many delightful experiences that will be cherished long after you have returned home. Northern Thailand, in particular has a special character of its own.
In fact, Erica and Chris (that's us) couldn't stay away and we have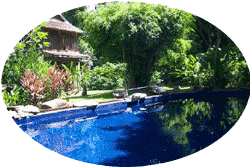 made Thailand our home. We are located to the south of Chiang Mai, convenient (less than half an hour) both for the city and the Airport.
We believe every guest is an individual and, therefore different….. And so are we!